Welcome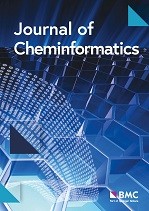 Journal of Cheminformatics is an open-access journal publishing original peer-reviewed research in all aspects of cheminformatics and molecular modelling.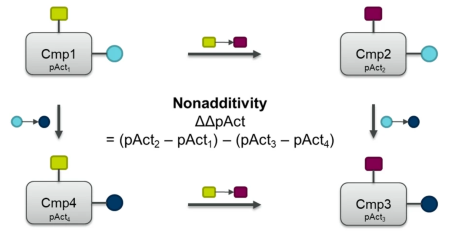 Numerous ligand-based drug discovery projects are based on structure-activity relationship (SAR) analysis, such as Free-Wilson (FW) or matched molecular pair (MMP) analysis. Intrinsically they assume linearity and additivity of substituent contributions. These techniques are challenged by nonadditivity (NA) in protein–ligand binding where the change of two functional groups in one molecule results in much higher or lower activity than expected from the respective single changes. Identifying nonlinear cases and possible underlying explanations is crucial for a drug design project since it might influence which lead to follow. By systematically analyzing all AstraZeneca (AZ) inhouse compound data and publicly available ChEMBL25 bioactivity data, the authors show significant NA events in almost every second assay among the inhouse and once in every third assay in public data sets. Furthermore, 9.4% of all compounds of the AZ database and 5.1% from public sources display significant additivity shifts indicating important SAR features or fundamental measurement errors. Using NA data in combination with machine learning showed that nonadditive data is challenging to predict and even the addition of nonadditive data into training did not result in an increase in predictivity. Overall, NA analysis should be applied on a regular basis in many areas of computational chemistry and can further improve rational drug design.
This article is first in our new article collection "Biomedical Data Analyses Facilitated by Open Cheminformatics Workflows"
This special collection showcases recent advances, applications, challenges in the enumeration of chemical structures: from the design to the analysis and use of either small, focused data sets, to large compound libraries. Analysis and handling of the newly constructed chemical structures include the storage, mining, integration of the constructed structures with other existing data sets, and curation.
Articles
2021
Biomedical Data Analyses Facilitated by Open Cheminformatics Workflows
Edited by Eva Nittinger, Alex Clark, Anna Gaulton, Barbara Zdrazil
Started publishing: 2 July 2021
2020
In Silico Structure Generation: Recent Developments, Applications, and Challenges
Edited by José L. Medina-Franco, Emma Schymanski, Christoph Steinbeck
Started publishing: 27 October 2020
Citation Typing Ontology (CiTO) Pilot
Edited by Egon Willighagen
Started publishing: 28 July 2020
2019
Big Data in Chemistry
Edited by Igor V. Tetko
Started publishing: 8 August 2019
Proceedings of the 11th International Conference on Chemical Structures
Edited by Gerard van Westen and Markus Wagener
Started publishing: 14 February 2019
Programming Languages for Chemical Information
Edited by Rajarshi Guha
Started publishing: 5 February 2019
2018
BioCreative V.5
Edited by Martin Krallinger, Obdulia Rabal, Anália Lourenço, Alfonso Valencia
Started publishing: 14 December 2018
Novel applications of machine learning in cheminformatics
Edited by Ola Spjuth
Started publishing: 21 February 2018
2015
Cross journal collection
Jean-Claude Bradley Memorial Series
Edited by Andrew SID Lang, Antony Williams
Started publishing: 22 March 2015
2013
6th Joint Sheffield Conference on Chemoinformatics
Started publishing: 29 July 2013
2012
The IUPAC International Chemical Identifier (InChI) and its influence on the domain of chemical information
Edited by Antony Williams
Started publishing: 13 December 2012
Semantic physical science
Edited by Henry Rzepa, Peter Murray-Rust
Started publishing: 3 August 2012
2011
Visions of a semantic molecular future
Started publishing: 14 October 2011
RDF technologies in chemistry
Edited by Egon Willighagen, Martin Paul Braendle
Started publishing: 13 May 2011
PubChem3D
Started publishing: 27 January 2011
2021
2020
2019
2018
2017
2013
2012
2011
2009
Upcoming Special Issues
Learn more about open Calls for Papers and upcoming Special Issues here.
The increasing volume of biomedical data in chemistry and life sciences requires the development of new methodologies and approaches for their analysis. Artificial intelligence (AI) and machine learning, especially neural networks, are increasingly used in the chemical industry, in particular with respect to big data. The collection presents progress and exemplifies the current needs, trends and requirements for machine learning in chemical data analysis.
The Journal of Cheminformatics is piloting use of the Citation Typing Ontology (CiTO) in its papers. Any author wishing to submit to the journal is free to participate in the pilot. To learn more about how, please click through to our dedicated page on the CiTO pilot and to see published papers already participating in the pilot.
COVID-19 and peer review
As a result of the significant disruption that is being caused by the COVID-19 pandemic we are very aware that many researchers will have difficulty in meeting the timelines associated with our peer review process during normal times. Please do let us know if you need additional time. Our systems will continue to remind you of the original timelines but we intend to be highly flexible at this time.
Benefit from our free funding service
We offer a free open access support service to make it easier for you to discover and apply for article-processing charge (APC) funding.
Learn more here.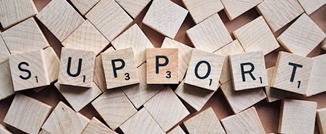 Editor profiles
Editors-in-Chief:

Egon Willighagen is a researcher in the BiGCaT Department for Bioinformatics and teacher at Maastricht University in the Netherlands.


Rajarshi Guha is the Associate Director of Informatics at Vertex Pharmaceuticals, USA, where he leads the cheminformatics group that is responsible for informatics needs in high throughput screening.
Associate Editors:

Nina Jeliazkova is a founder and co-owner of Ideaconsult Ltd, Bulgaria, and has been technical manager of the company since 2009.

Barbara Zdrazil is a group leader at the University of Vienna, Austria, and works as a safety data scientist for the European Bioinformatics Institute (EMBL-EBI), UK.
Annual Journal Metrics
Speed (average)
47 days to first decision for reviewed manuscripts only
32 days to first decision for all manuscripts
124 days from submission to acceptance
16 days from acceptance to publication

Usage
760,938 downloads
1567 Altmetric mentions

Citations
Click here to see citation distribution in recent years